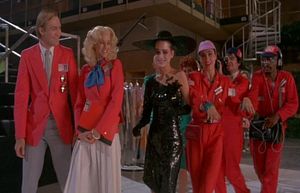 ( Da real bio is in da books! ) 
Animal and nature lover, author, journalist, photographer, yogi, actor, traveler, environ-mentalist, and advocate for simple living. 
Boomer, striving to get younger, happy and grateful. Financially self-made, inherited work ethic.
Non meat-eater, food-combiner. Believes in natural health and raw food. 
Lives in Hawai'i.
Over 100 published newspaper articles as a freelance journalist,  8  published books so far, including "Nicaragua Story—Back Roads of the Contra War," released summer 2022 and "Ta Ta for Now—the Movie" released summer of 2023. (2 of the books are under pen-name Ava Greene.)
Previously acted in film and television (and stage). No one website with all credits, but you can find most. Biggest films were "Caught on a Train," BBC TV movie (won major awards - photo on rt) and "Shock Treatment," sequel of "The Rocky Horror Picture Show." You can watch both on YouTube.
Modeled in NY, Paris, and LA. More recently, 20 years in the healing arts doing massage in Santa Monica and mostly Hawai'i. Taught yoga 15 years in LA and Kaua'i.  
Covered a lot of turf by not having kids.
Lately been taking extensive road-trips — above photo from Glacier Nat'l Park in Montana.
Best is yet to come.  
Meanwhile, cranking out books; swimming in the Pacific; farming  lemons and mangos; counting blessings; appreciating Hawaiian intoxification and guardian spirits.
Fun facts: 
- college drop-out
- does not have a doctor, never has
- recovered sugar addict 
- never been to a hair salon, never colored hair, never had a manicure, nothing pierced 
- uncanny aptitude for finding the slowest line in the grocery store 
- into astrology
- always lives in zero-waste households 
- speaks 5 languages (poorly)
- been to 45 countries and 49 of the United States (Alaska, here I come)
- doesn't take 'vacations' but lives one
- watches "Survivor"
- rescues birds
- not a fan of censorship, the Great Re-set, mainstream media
- does not drink Kool-Ade